Rokkaku Kite Fighting
Rokkaku kites (also sometimes called bow kites) are a type of kite that originated in Japan in the 17th century. Rokkaku kites, or more precisely "rokkaku dako" is a Japanese word that means "kite with six sides," which of course describes its shape exactly.
Rokkaku kites are characterized by simplicity of design, simplicity of construction, and excellent flight handling. Their simple, light weight design, makes it possible to fly very large rokkaku kites, sometimes requiring teams of people to handle the kite.
The excellent maneuverability of this type of kite led to the rokkaku kites being used in the sport of kite fighting. A rokkaku kite fighting festival called "Ika Gassen" (fighting kites) has been held annually in the City of Sanjo, in Japan. The tradition started with a contest between local Japanese children and the children of government officials. It has grown over the years into a contest featuring large battles between teams of kite flyers, from all over the world.
A Design for A Rokkaku Kite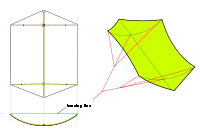 In Japan, very large kites of four meters or more are used. This kite will then be held mostly by ten or twenty-man strong teams. In the Western world, rokkaku kites are usually smaller (usually one to two meters) and when used in competitions, they are usually held by only one or two people.
In these battles, the rule is simple: the last kite in th air wins. Kites are matched against kites of similar size. Combatants aim to knock opposing kites out of the air by cutting the other kite's lines or knocking them out of the sky.
The simultaneous flight of a large number of aligned Rokkakus is an incredible spectacle. Very old in Japan, these fights are now regularly practiced in the West since the late 1980s.